It's not called the sunny south east for nothing. Waterford has it all, from spectacular beaches and it's coastline to mountains and its very own greenway, you won't be stuck to find something to see or do for everyone.
Ride a pony in Tramore TIME TO GRAB THE REINS Imagine gallop on the beach with the wind blowing in your hair and the salty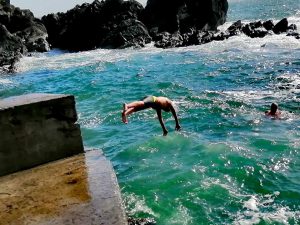 Dive into the deep blue sea at one of the most scenic spots of Tramore and a favourite with the locals all year round. Swim beneath the cliffs and chat with wild swimming enthusiasts about what makes them tick. The water is pristine and probably cold. Wetsuit, or no wetsuit? You'll know the answer soon enough.
A lovely little park just off the beaten path right outside the city centre sporting gorgeous views of Dungarvan harbour on a sunny day!
Chose a different path each time along The Greenway and discover lots of historic attractions along the way. Stretching over 46 km from Waterford City to Dungarvan, each section has something to enjoy during your walk. Pretty villages, magical tunnels, and historic bridges are just some of what you'll see.