At 5 p.m., Waterford will transform into a Christmas winter wonderland. The Winterval Parade will depart the city's Quayside at the Port of Waterford Winterval Eye and will continue up through Barronstrand Street into John Roberts Square, continuing through Broad Street and finishing at the top of Michael Street at 5:45 p.m. The city's Christmas lights will be officially switched on at 6 p.m.
The parade will feature some of the wonderful delights of the festival including the Gerbola Christmas Circus, the cast of Waterford Panto's 'Rapunzel' and the cast of the Narnia Christmas Show, the Winterval Mini Express Train, visitors from The North Pole, some of the big man's naughtiest elves and even Mrs Claus. 
A New, Magical Illuminates Lightshow
A new Winterval Illuminates Lightshow has been designed and it is set to ensure that viewers enjoy an enchanting evening spectacle showcasing a captivating dance of light that illuminates the darkness, creating a symphony of beauty, wonder and joy.
The new show features a magical array of animation sitting amidst a backdrop depicting the city's skyline, which features some of Ireland's oldest buildings and of course, some friendly Vikings.
The animated show is designed to tell a tale that rises and falls in time to the variety of festive melodies and even some rocking beats. The 15-minute show will culminate in a mini Snow Disco as the snow machines come to life with a blanket of snowy fun for all the little ones.
The 2023 Winterval Illuminates Lightshow is sponsored by Bausch + Lomb and will feature every half hour at Arundel Square in Waterford City.
The light show will be projected onto a stunning 9-metre-high tower and will come to life at nightfall with an explosion of light, sound, special effects and of course the projection show. This feast for all the senses promises to be an event not to be missed for audiences of all ages—and it's free!
Way More to Look Forward to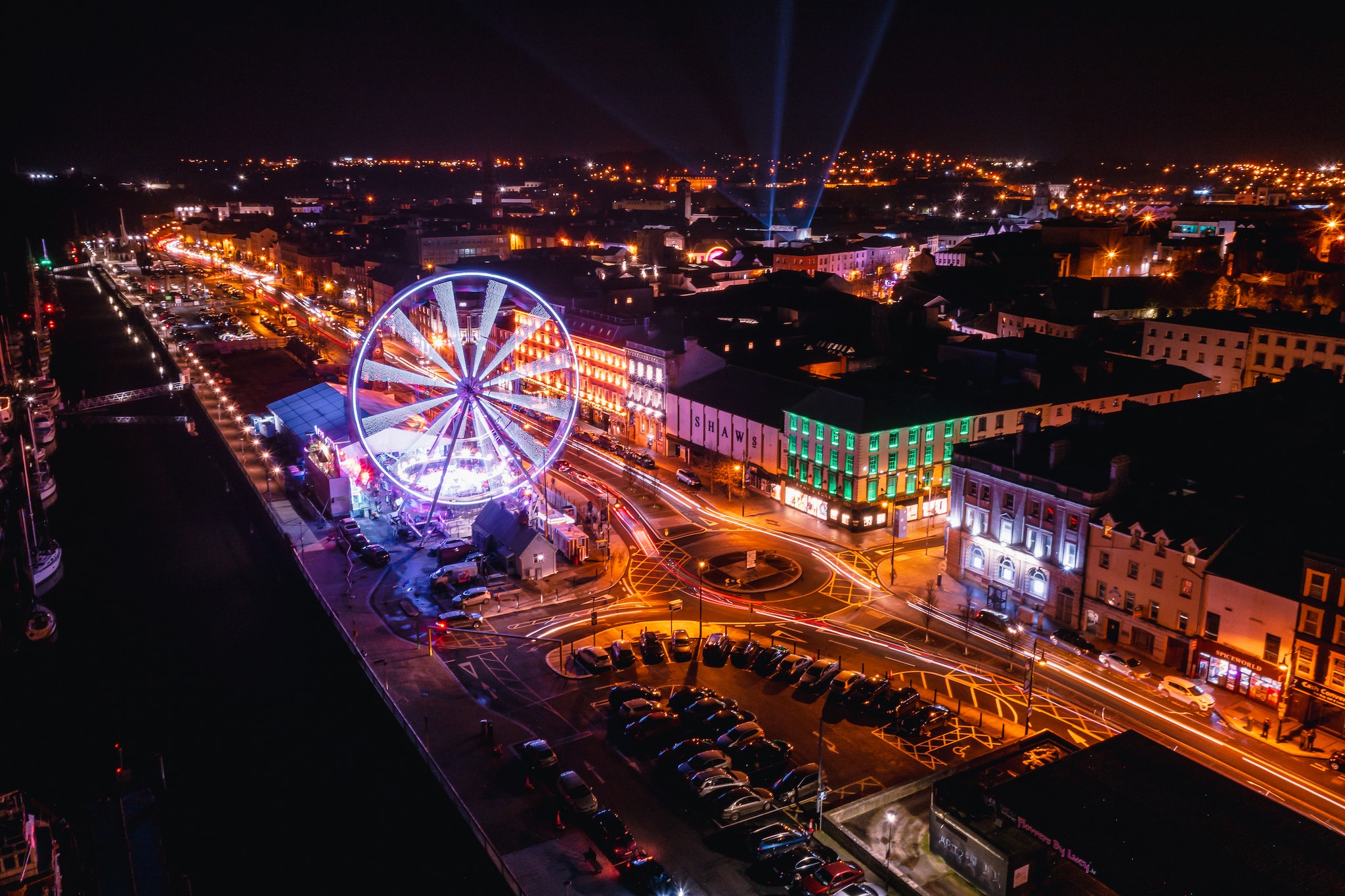 There is plenty to see and do for everyone in the family from the ice rink on the quay to the vintage Ferris wheel at Arundel Square, a vintage carousel in John Robert's Square, the Port of Waterford Eye and the Winterval mini Express train. There will be Elf workshops, a Polish Christmas market, a Gerbola Christmas Circus, Santa's VR sleigh ride, helter-skelter, helicopter trips with Santa, a fantastical 'Adventure of Narnia' show, which will be hosted at a mini Big Top in the heart of the city at Jenkin's Lane…and more.
Santa will be taking centre stage at the festival in the city's heart on Broad Street. He will be ensconced in his candy-filled Gingerbread House for Winterval.
The free events on the programme include a gigantic and magical talking postbox, a GLOW garden and a new sensory wall, a Viking Elf trail hunt, a Viking Yule Village by Deise Medieval, storytelling sessions, a free music stage, a model circus and fairground exhibition and lots more. 
Circus' Big and Small
A mesmerising exhibition will be displayed in Waterford during the Winterval Festival with a showcase of an entire twinkling and movement-filled display of model Fairground rides and Circuses hosted by collector Pat Flynn.
The free exhibition features every possible miniature fairground ride, ticket booth, set of festoon lighting, merry-go-round and even tiny bumper cars and candy floss sitting on a twinkly table, doling out tinny musical notes. Its creator and collector, local man Pat Flynn, has been collecting and building model fairground pieces and model circus items along with Corgi and Diecast models since his childhood.
Pat's personal collection includes some unique pieces and models featuring an entire range of rare and beautiful circuses including Chipperfield's Circus, French Circus Pinder, and Irish circuses Fossett's, Duffy's and Gerbola.
The exhibition will be open at the weekends (Friday to Sunday) from November 17 to December 15. From December 15 to 23 it will take place daily. Entry to the exhibition is free and Pat will be on-site to answer any questions and offer festival-goers information about his world of circuses and funfairs on display.
In addition, a full-size live circus will be on offer at Winterval with the Gerbola Christmas Circus setting up in their heated big top for the duration of the Winterval festival.
The Ice Rink is Back!
The coolest attraction and the hottest ticket in town is back again for Winterval—so get your skates on for the ultimate skating experience.
Waterford on Ice will be situated on the quay and brings the magic of the North Pole to the Southeast, ensuring an exceptional and fun-filled experience for all levels of ice skaters.
Catering to all, penguin skating aids will be provided for the little ones, along with trained Ice marshals and helpful skating staff all working together to ensure a safe and fun day out for families, large groups and school groups.
Tickets to Waterford on Ice are now available to pre-book at https://www.winterval.ie/
At Ireland's Christmas Festival, there will be plenty to see and do as the festival organisers are planning another Winterval extravaganza with all of the festival's firm favourites including the Waterford Illuminates light show, the Winterval Christmas Market, live music gigs and lots more set to dazzle and delight.
Winterval is supported by Waterford City and County Council as well as a host of other local, national and international businesses, all of whom have a keen interest in Waterford and the Southeast region; including Bausch + Lomb as returning sponsors of the reimagined Winterval Illuminates light show; Glenveagh Homes have taken a two-year named sponsorship of the Glenveagh Christmas Market at Winterval; Expressway returns as the festival's official transport partners, as do City Square Shopping Centre as sponsors of Santa's Mini Express Train, and the Port of Waterford as named sponsors of the Port of Waterford Eye.
The full Winterval Festival programme is available to view and book online here.