This is the 30th anniversary edition of Spraoi. It began in 1993 with five attractions, this year audiences will be offered almost 200 free street arts, music and spectacle events.
Thousands of locals and visitors are expected to flock to the city and enjoy an array of performances across The Mall, Apple Market, John Robert's Square and O'Connell Street areas. Festivities commence at 3 p.m. on Friday and climax with a fireworks finale at 10.30 p.m. on Sunday.
The Spraoi Parade is one of the festival's favourite attractions. For a generation of Waterford people the event is established in the city's social and cultural DNA. Parents who were brought to early parades as children now bring their family.
This year's Spraoi Parade is titled Area 051, a playful Martian tale. It has been in construction at Spraoi Studios for 12 weeks, by a team led by Spraoi's Artistic Director Mike Leahy. At 9.30 p.m. on Sunday evening hundreds of costumed performers, bespoke floats, light, sound and special effects will weave through the city's Medieval streets, followed by a fireworks finale launched from the River Suir.
"Of course we aim to create a parade that will entertain and even inspire people," says Mike Leahy. "It is also a source of pride that local people make it. There are a lot of skills involved and Waterford is one of the few places in Ireland with the capacity to create performances on this scale."
Other festival highlights include Beautiful Bones from Scotland on Friday, Be Flat from Belgium on Saturday and the annual Spraoi Parade on Sunday. Music lovers can feast on the Rockshore Spraoi Rhythm Route throughout the weekend with outdoor stages offering a diverse music programme form local, national and international musicians.
George's Court will be a hub for good food and performances on Friday, Saturday and Sunday, with performances on the adjoining John Robert's Square.
Waterford Credit Union hosts Our Place Our Music, featuring an all Waterford cast of musicians. It runs at Constitution Square on Saturday and Sunday afternoon.
One of the festival's most novel acts is Be Flat with their show Follow Me. Audiences will actually follow these two Parkour acrobats as they climb and somersault across the city's architecture on Saturday and Sunday afternoon. It is supported by Active Cities and Waterford Sports Partnership.
No Spraoi would be complete without a small army of enthusiastic and talented volunteers to plan and deliver Ireland's premiere street arts event. They come from all walks of life and are partnered and empowered by festival friends Red Hat.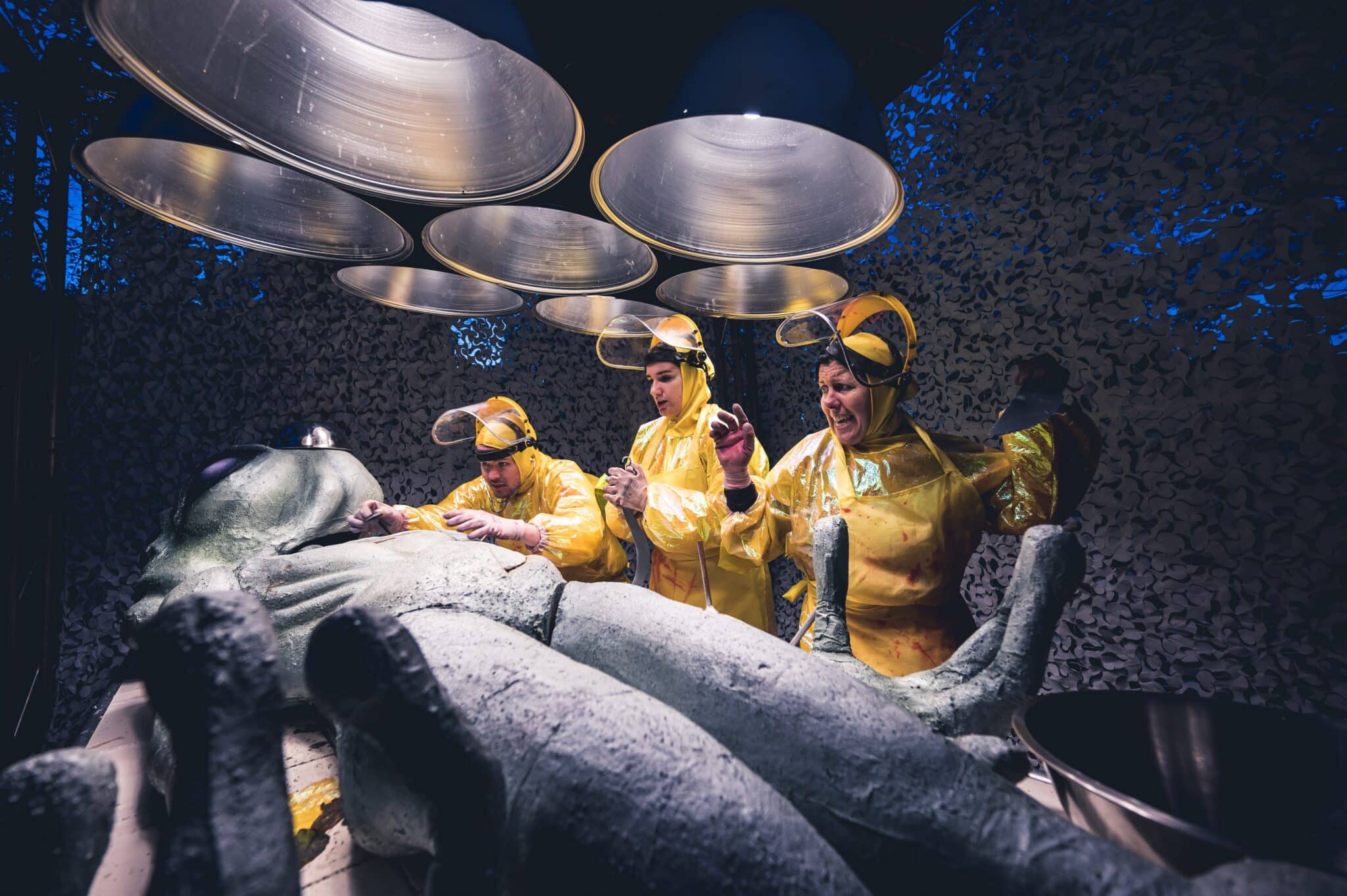 Spraoi Parade Area 051
The Spraoi Parade is one of Waterford's great annual events. It is also one of Ireland's biggest non-music summer arts events, attracting a live audience of up to 25,000 spectators.        
This year's parade title is Area 051. The alien inspired performance will feature hundreds of costumed performers, specially constructed floats, light, sound, music and special-effects.
It begins in Johnstown at 9.30 p.m. on August 6th, before weaving through Parnell Street, The Mall and onto The Quay where it concludes at the GPO. The parade will be immediately followed by a fireworks finale launched from the river Suir.
Spraoi Artistic Director Mike Leahy says: "We have been building the show at Spraoi Studios for months. There is a lot involved from engineering to costume construction. We started rehearsals in recent weeks and the cast has brought amazing energy."
Waterford has the vibe of a Brazilian carnival on Spraoi Parade night. Thousands flock to town early to secure favoured viewing spots. Cafes, pubs and restaurants are full and the city's new outdoor hospitality areas are brimming.
By way of assistance to attendees with disabilities, there will be a designated area at the GPO roundabout. Allow plenty of time for arrival and parking, as last year many of the festival's Sunday afternoon audience stayed in town and parking was scarce. Top Tip: Parnell Street is one of the less congested parts of the parade route.
Street Talk Welcomes Europe
European festival directors and managers will visit Waterford for Spraoi Festival. With support from Southern Regional Assembly a series of street arts trade-events are planned including the Street Talk, an ideas exchange at Garter Lane Theatre.
The Street Talk theme, Nurturing Practical European Cultural Connections, will enable street arts professionals from all over Europe to share ideas with their Irish counterparts. It is expected the event will lead to practical introductions between Irish artists and European festivals' directors and programmers.
David Kelly, Director, Southern Regional Assembly, said "We are very pleased to be working with Spraoi, both of our organisations have a strong European focus and we both strive to build and maintain mutually beneficial links and relationships with our European counterparts. Over the past half-century, Ireland's EU membership has changed how we live, work, study and travel for the better. Street Talk will explore how we can continue to nurture our cultural connections with our EU neighbours into the future."
Rockshore Spraoi Rhythm Route
Waterford is known as the City of Music and it certainly will be on Spraoi weekend. An array of local, national, and international bands and musicians will feature on Rockshore Spraoi Rhythm Route stages at the Apple Market, Bailey's New Street, O'Connell Street and The Mall on all three days of the festival.
Local musical heroes include: The Butterfly Band, Brass and Co., Soul Reazon, Monkey Harris and The Jam Tarts.
Musical visitors to the city and Ireland include: Crinkle Cuts, Beef Supreme, DJ Bootsy, Dr. Bluegrass and Illbilly 8, Ol Times, Shakalak, and Two Time Polka.
Spraoi's association with Rockshore has enabled the festival to present an array of sounds from across the musical spectrum: funk, soul, rock, Americana, bluegrass and a reggae twist.
"Thanks to Spraoi's Rockshore association and fantastic cooperation from host locations we are able to offer audiences an array of World Music. There really is a fantastic Rockshore Spraoi Rhythm Route roster available this year. People will find band profiles and times on www.spraoi.com," a festival spokesperson said.
The Butterfly Band
One of Spraoi '23's major attractions will be Waterford's legendary Butterfly Band. The band re-assemble to play their album You Might As Well Be Hung For A Sheep As A Lamb live at Bailey's New Street on Friday 4th at 9.30 p.m. as part of the Rockshore Spraoi Rhythm Route. Omega Three are special guests that evening.
Our Place Our Music
This year's Spraoi programme features a dedicated space for Waterford musicians. Titled Our Place Our Music the event will be presented at Constitution Square,  behind the Bishop's Palace, and is sponsored by Waterford Credit Union.
"Waterford Credit Union and Spraoi have a lot in common, in particular our sense of being part of Waterford communities. Playing our part in celebrating and promoting music from our place is something we are delighted to be involved in," says Jenny O'Mahony, Marketing Officer, Waterford Credit Union.
Featured acts include: Vibe Dance, WAMA Drumming Band, Soul Song Gospel Choir, Music Generation Waterford and Barrack Street Concert Band, with concerts on Saturday and Sunday afternoons at the festival.
Coincidentally, Waterford Credit Union is celebrating its 60th anniversary this year while Spraoi Festival celebrates its 30th birthday and there will be a Credit Union stall on The Mall.
Be Flat Are Something Special
Be Flat are a Belgian Company performing Follow Me at this year's Spraoi. They climb and somersault across buildings along their route. Audiences can join them by coming to the corner of Meeting House Lane on O'Connell Street at 3.00 p.m. on Saturday and Sunday of the festival.
The dynamic duo then invite their audience on a Spiderman-like city tour. It is daring, dramatic and entertaining.
While in Waterford the company will present a sampler Parkour workshop for young people. This this is a great opportunity for young people to have an introduction to this alternative sport. Active Cities and Waterford Sports Partnership have assisted the festival to present this unique combination of art and sport.
Tickets for the Parkour sampler workshop must be booked on Eventbrite, via the Waterford Sports Partnership website. Tickets are free, but essential for admission.
Beautiful Bones 
Beautiful Bones is a series of city centre performances on Friday, August 4th. The large scale production is created by SURGE Festival, Glasgow, a creative partner that Spraoi has developed a thriving relationship with.
Various performances embrace original music and sound design inspired by 1990's rave, British SKA, and medieval secular dance music. All are united by the energy and colour of Mardi Gras. A massed trombone orchestra forms the backbone of the finale on The Mall at 9.00 p.m.
One of Waterford's favourite brass bands, City of Waterford Brass, are a central contributor to a series of spectacles throughout the day as Beautiful Bones explores, in a slightly irreverent way, how we deal with death.
City of Waterford Brass are a traditional type brass band with a very un-traditional approach to their performances, especially when it comes to their interactions with Spraoi audiences. Music Generation Waterford, an ensemble of fantastic young musicians, will also feature front-and-centre in Beautiful Bones following intensive rehearsals with their music tutors.
For details and times of all other Beautiful Bones performances and mini-parades, see: www.spraoi.com
Spraoi Gimme €5 Collection
Spraoi is a not-for profit organisation. It requires public support to bring and present all these amazing attractions. Think of what it costs to entertain family and kids on a normal weekend. Spraoi is FREE! So play your part. Find a Spraoi collector, or visit information booths and please give generously. Be a Spraoi stakeholder!
Food and Fun at George's Court
George's Court will be a hive of food and fun throughout Spraoi Weekend. Many of the festival's top acts are performing outside various George's Court cafes, coffee shops and of course No. 9 restaurant. 
One such show is Kinematos, which will be performed at John Robert's Square on Saturday and Sunday afternoon, August 5th and 6th.
From the southernmost tip of Argentina, the manoAmano Circus Company tours the world with its masterpiece show of precision, vertigo and comedy. A duo of acrobats sit 6 metres high, ready to break anything that may seem to be standing still. Feel the tension.
This couple of tender characters put together simple situations, sharing naughty sweet humour, through the powerful language of acrobatics. manoAmano exhibit how acrobatics takes a new shape when it is transferred from the floor where everybody stands, to the air where everybody dreams of going.
Festival Information:
There will be Spraoi Information Booths located at John Robert's Square and The Mall throughout the festival. For additional detailed performance information, acts, locations and times see: www.spraoi.com Spraoi Facebook, Instagram and Twitter platforms will offer updated news before and during the 30th anniversary Spraoi International Street Arts Festival.     
Spraoi Volunteers Take A Bow
Supporting professional artists and musicians throughout the festival is a dedicated and skilled team of Spraoi volunteers, led by Vicky Wall. They come from all ages and backgrounds to ensure stages and performances run smoothly.
"The volunteering programme Red Hat supports with Spraoi is a lot of fun to be involved in but it is also a great learning environment," says James Mernin of Spraoi volunteering sponsors Red Hat: "Year-on-year volunteers progress to increasing levels of responsibility. Red Hat is in the open source business and in its own way Spraoi offers open source pathways to improving personal skills while serving the local community on so many levels," Mernin added.
Fireworks Finale
Spraoi celebrates its 30th anniversary with a spectacular fireworks finale launched from the river Suir at 10.30 p.m. on Sunday, August 6th. Over 25,000 spectators are expected for the riverside spectacle partnered by Clem Jacob Hire. "It is an incredible gathering, one of those moments each year when it feels like most of Waterford are in the one place," said a Spraoi spokesperson.