Cruise into Christmas
As an exciting addition to the Winterval schedule, the Barrow Princess will set sail from Waterford on weekends during the festival. This scenic and seasonal river cruise will delight passengers of all ages, and a warm welcome awaits all those who come aboard.
Marvel at the magic of Winterval from the panoramic open air top deck, or soak up the sights of the city from the cosy indoor lounge. Sit back and relax with a mulled wine, warming hot chocolate and a traditional mince pie, as the Barrow Princess meanders gently along the mighty river Suir.
Booking is required. For more information, contact: 087-252-9736 or info@barrowprincess.ie.
Winterval's Christmas Markets
It's time to get cracking on your Christmas shopping and one of the best ways to support Winterval is to head to the beautiful Alpine-style cabins in Waterford's Cultural Quarter. Soak up the Christmas atmosphere and browse the many Christmas craft and food stalls and support local, regional and national producers this festive season. Grab some Christmas decorations, hats, scarves, bags, t-shirts, toys for the kiddies…and more. If you're hungry or thirsty, you're covered too with all sorts to satisfy the appetite from burgers, ice cream and pulled pork sambos to hot chocolates and mulled wine. Open every day from 11 a.m. to 8 p.m. Yum.
Check Out the Blue Lights Parade
On Sunday, December 4th, the Blue Lights Parade will arrive to the city with sirens and lights ablaze as they travel fromBilberry at 3 p.m. and parade down the Quay to the Mall and onto Parnell Street, where it will turn left into Johnstown and into the Waterside car park where they will remain until 8 p.m. As a treat for the Winterval visitors, the emergency service crews will give families a chance to get up close and hop aboard the rescue trucks, bikes, cars, boats, engines and much more. This event is in aid of little Blue Heroes.
Take a Selfie in the Magic Mirrors
Meander through Winterval's magic mirrors and snap a selfie of your reflection as you're transported through iconic European cityscapes. Check out the magic mirrors for yourself at their location on New Street, just off the Apple Market.
Winterval's Resident Storyteller
Join Winterval's Resident Storyteller Kitty Cabooble for a selection of songs and stories. Her repertoire mixes classic fairy tales, folktales, myths, legends, songs and tunes to entertain all ages. Kitty Caboodle has been the resident storyteller at the Winterval Festival since 2017 and has also visited many of the city of Waterford schools and libraries to tell her stories. This event will take place at The Book Centre in John Roberts Square every Saturday and Sunday at 2 p.m., 3 p.m. and 4 p.m. This is a free event and booking is not required.​
Christmas Wouldn't be Christmas Without a Choir
Music director Dr. Kevin O'Carroll will conduct a choir of over 60 singers, and a 20-piece orchestra including local soloists Roisin O'Grady, Andrew Gavin and Eoin Power. The music in "The Creation" is positive and uplifting, and is a must-see event within Winterval this Christmas. This takes place at St. John's Church on Parnell Street on Sunday, December 4th. The event starts at 8 p.m. and tickets are €25 and available to book at www.winterval.ie.
Bring the Kids in to the Apple Market for Fun Workshops
Waterford's Apple Market has been transformed into a bustling Winterval wonderland. Not only is it the home of the Winterval Hall of Mirrors, Santa's Giant Talking Postbox, and The Postbox Collection Show, there will also be workshops and activities for children every Saturday and Sunday from 12 p.m. to 3:30 p.m.
Highlights include Bricks For Kids, Nutty Scientists, WAMA, Active Cities and more.
Let Your Furry Friend Join in on the Fun Too!
If your dog has been has been naughty or nice, you're still going to reward him or her with a trip to see Santa, right?
​Santa is coming to Waterford Winterval this Christmas and while he is pretty busy saying hello to the children from Ireland's good list (which is all of them, obviously), he's putting time aside for fur babies too.
If your pup has their eye on a frisbee, a chew toy or a big tasty bone from the butchers, now is their chance to put in a word with the big man and make sure the gift of their dreams is under the tree on Christmas morning.
​Take your little Fido to Santa Paws—the ideal festive family day out for you and your pooch.
This weekend December 3rd and 4th December, come along from 10 a.m. to 6 p.m. Booking is required. See: Santa Paws | Winterval 2022.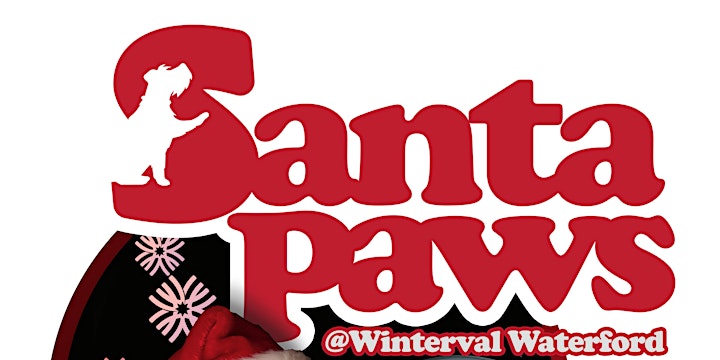 The full Winterval Festival programme is available to view and book online at www.winterval.ie