Art exhibition @GOMA
I believe our house/ home is hugely instrumental in building us. Whether it is through experiences that challenge us, develop our resilience, make us stronger, nurtures our spirit, feeds our creativity.

Bernadette Doolan. Artist.
Award-winning Irish artist, Bernadette Dolan's work is held in many private and public collections including Wexford County Council art collection. The House That Built Me runs from July 30th to September 26th at GOMA and is sure to be an impressive exhibition – well worth a visit.
Disco night – at home!
It's week 19 of Lockdown Disco and it's about time you got on board for a Friday night of great music, a bit of fun and lots of funky moves right from your home on Friday, July 31st! Check out www.dirtydancingdisco.com. Be there or be square -starts online at 9 pm.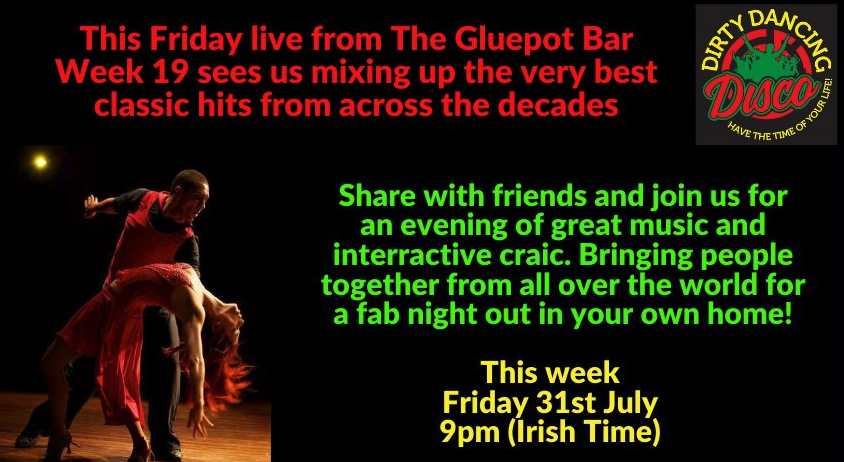 For families
Don't forget to register for SprÓg online – the popular yearly kids festival that's taking place over the bank holiday weekend and has lots of free workshops for the little ones to keep them entertained and get their creative juices flowing.
Say cheese!
Capture your best moments of summer 2020 with a fun, family photo wherever you choose in Waterford. It could be on your favourite beach or in the woods, its' up to you! From August 10th to 28th, book a family portrait session with David O'Sullivan Photography. Don't forget to smile!
Learn to paint with oils @Artform
Sign up for 'Abstraction and Representation in Oils with Gabhann Dunne' running at Artform in the village of Dunmore East. The course runs August 18th, 19th & 20th. It's your chance to understand how oil paint allows for a space in between abstraction and representation. View all art courses running in August.