Get your tastebuds going! Try out some of Waterford's great eateries that serve food from every corner of the globe. Vegan, seafood, Italian, Indian and Asian, just some of the fabulous cuisine on offer when you're feeling hangry! And if that's all too much, then why not sample Waterford classics like 'The Blaa.' Go on, tuck in.
Waterford Walls is an international street art festival, managed by The Walls Project, that has worked with some of the largest and most well known national and international names in Street Art to transform Waterford into Ireland's largest and most accessible outdoor gallery. Our mission is simple-to use arts as a medium for rejuvenating and inspiring urban space.
Open Mon to Sat 11am to 6pm; Sun 1pm to 6pm.
Kite Design Studios, situated in the Viking Triangle in Waterford city, is home to some of the most creative craftspeople in Ireland. Housing The Irish Handmade Glass, it was purpose built by the City Enterprise Board to facilitate local craftspeople.
A new fitness, dance, music and arts venue in Waterford City!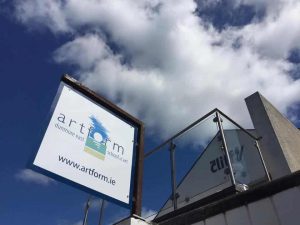 Art School based in the stunning seaside village of Dunmore East. Offers inspiring art workshops & holidays for all levels led by renowned Irish artists.
Setup and run by Caoimhe Walsh, a fibre artist living in Tramore, Co. Waterford with her partner and daughter. Caoimhe is passionate about making unique