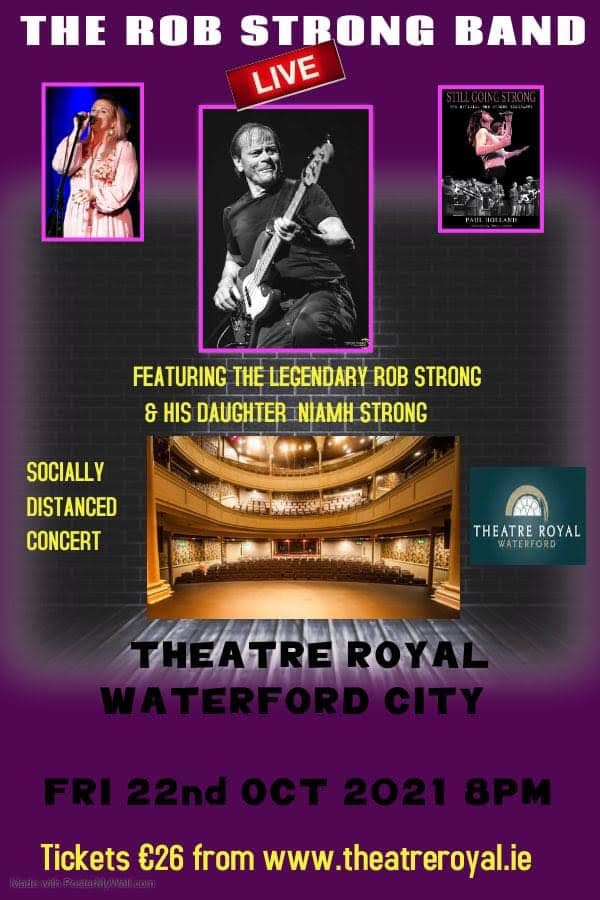 THE ROB STRONG BAND with Special Guest Niamh Strong
The legendary Rob Strong returns to Waterford´s Theatre Royal after a fantastic reaction to his concert there in August 2020. Rob has always enjoyed a big following in the city, going back to the days of The Plattermen, when Rob was the iconic band's lead singer and often played such wonderful venues as The Olympia Ballroom in Parnell Street.  The Derry man recently celebrated an amazing 60 years on the road, and as the title of his  recently released biography suggests, is 'STILL GOING STRONG'! 
Rob started out with The Polka Dots in Omagh in 1965 in the Showband era and progressed to front The Plattermen, one of the biggest bands in Ireland in the 60's and 70's. Rob spent a year with Johnny Logan in a band called The Giants in 1975 and also fronted The Las Vegas Showband with Kelley, The Rockets and for over 30 years, The Rob Strong Band, in a career that has spanned almost six decades. The man known as "The Godfather of Irish Soul", once turned down the opportunity to become the lead singer of Deep Purple, while his son, Andrew Strong, starred as Deco Cuffe in "The Commitments" the smash-hit movie worldwide in 1991. Rob's daughter, Niamh Strong, is a fabulous  singer in her own right and  frequently guests with The Rob Strong Band, which includes two more fabulous musicians,  Sean Behan on lead guitar and Cormac Crowley on drums. 
Here are just some of the incredible quotes on Rob Strong from the as recorded  by his fellow Irish legends for Rob´s Biography  ´STILL GOING STRONG´  :-
 "Rob Strong is unique. He is incredibly talented. In my opinion he is the best Blues or Soul singer to ever come out of Ireland. His innate gift is his voice and his timing is incredible" COLM WILKINSON
"Seeing Rob Strong with the Plattermen in the late '60s was a big influence on me. To hear a fellow Northerner sing the soul music I loved so well, gave me a lot of confidence that one day I could find my own voice. Rob is one of the true originals!" PAUL BRADY 
 "When I first heard Rob Strong sing 'Living Doll', I felt that Rob sang it better than Cliff Richard himself! BRIAN COLL 
"When I think of Rob Strong I think of a big voice doing Bluesy stuff with a raw edge. Rob Strong has a big engine and a great vocal range. PHIL COULTER
 "Rob Strong would have been a big hero of mine back in the day. I was starting to be a bass player myself but he was on a different level.  The thing about Rob is, he's a serious package, bass chops, voice and presence BARRY DEVLIN (HORSLIPS). 
"For me Rob is world class. I'd say he is one of the best Blues/Soul/Rock singers in the world. Rob is also a great bass player. He has a beautiful tone on the bass. It's like he's caressing the bass. I've played with lots of bass players- Rob is the best! DON BAKER
"With that mane of hair, the shades, the microphone  way up high so he had to lean the head back and sing right up into it… He really did look and sound like he'd just been beamed down from the Whiskey in LA or the Fillmore in San Francisco. Not only would he have fitted right in there, he'd have blown them away. "JIM LOCKHART (HORSLIPS)
"There is no doubt in my mind that Rob Strong is world class. There's so much passion in his voice, which is really unique. He's got that big soulful voice which you can see etched all over his face when he's singing. PAT SHORTT (RTE)
Rob's biography, written by his manager, Paul Holland, will be launched at the fabulous Workman's Club, Wellington Quay, in Dublin, with TWO gigs by The Rob Strong Band on Sunday 19th September.Rob and Paul  will be signing the book after the show in Waterford For further information please contact
Paul Holland (Tel 087 9630375, info@robstrong.ie, ROB STRONG BAND LIVE on Facebook