Today, Waterford.FYI talks to Catherine Keighery of Redlane, Tramore about how business has been for her since lockdown and why having a good online shop and social media presence has made all the difference to sales these past few months. The store is open 15 years, something Catherine can celebrate at her next garden party!
It was very hard for Catherine to close her doors mid-March when everywhere went into lockdown. The much-loved clothes boutique in Tramore has continued to thrive because of their readiness for online shopping and a great website.
She really misses the banter with both her customers and staff, but Catherine's positive outlook keeps her going. Thanks to sales over the phone, and a 'click and collect' service, she spends long days in her shop, hand-wrapping each item so that her customers get to enjoy a little bit of that Redlane experience at home! Below, see how she has been getting on!
Read the interview
How have things changed for you since the lockdown in March?
So, obviously, our physical shop has closed, which was a huge shock at the time. The first couple of weeks were up in the air and then it got very busy online. We are actually busier now than we ever were online, so thank god it was set up and ready to go when it happened. We were fully equipped and ready for this – I'm kind of counting my blessings at the moment!
How has the shutdown of so much impacted the community, your staff, and suppliers?
When we closed first, I thought "Oh my god, we'll never get back from this". At this time of year, we're heavily invested in communion wear, occasion wear; it's our busiest season. I didn't think we'd open for the first couple of weeks but after that, there was huge goodwill amongst our customers. I knew we had good relationships with our customers but there were vouchers, little presents bought, kids presents bought and it was all goodwill. It was really heartwarming.
So, I was able to buy in more casual stock. Nobody wants dresses now, 'coz there's not going to be any occasions and we are at the stage now that we are busier online than EVER . It's been really lovely to get all the messages of support from our customers and staying in touch with all our staff. I didn't realise how much a part of the community we were until this all happened.
Are you connecting with your customers?
Yes, we have quite a large mailing list; we deliver nationwide. You know, customers who would have been on our mailing list for years are suddenly replying to our newsletters saying "fair play to you", "keep going" etc., it's just lovely to hear from people who are now getting in touch with us after all these years. It's really nice… 🙂
In what ways can customers and communities support local business now?
It's a funny time because a lot of people are out of work. If you need to buy something online, absolutely try and buy it from a local retailer and if not, a retailer in Ireland. The more money that stays in the country, the faster we're gonna get out of this mess; no more Amazon, no more Wish, the money goes straight out of the country. We need it here to put back into our communities.
For instance, our budget for sponsorship would be between 400/500 a month (vouchers, donations). Obviously, that's not happening now, so where is all that money going to come from? We need to get all the money back into our small towns and villages. There are so many community groups there that need our support.
How are your staff doing; what are ye doing to keep up morale?
For the first couple of weeks, everybody was busy and thought, "oh we're on holidays" – putting down decking, fencing painting but then, everyone was missing the whole camaraderie of coming to work, having your friends here, the customers coming in and the goodwill from the staff who wanted to come down when I wasn't here and tidy up or decorate the windows, ordo try-ons for social media. They were great. All of our girls are really looking forward to coming back and chatting – it's a lot of what we do here at Redlane.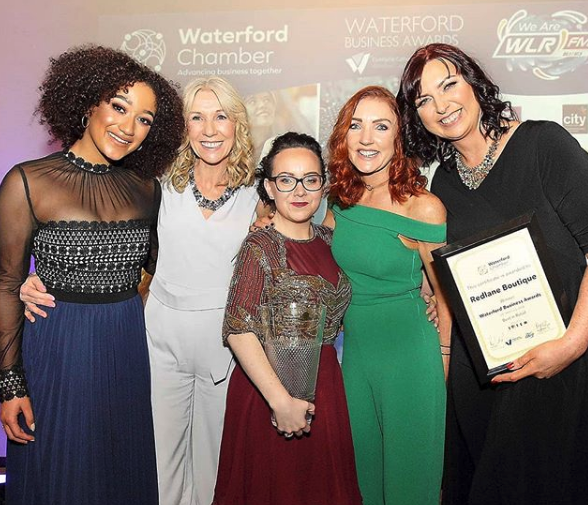 Tell us about your online shop
We are online since 2008, so we were well set up for this. We just ramped up; everything we had there was ready to be scaled and it has worked well for us. The only thing is is that I'm here on my own, my daughter who has just finished her exams is going to give me a hand as there is a massive amount of work.

We don't use any plastic packaging for our e-commerce at all – we box it all up in recyclable packaging and try to have as much of the shop experience in the online service as we can. It's wrapped in nice paper, with a Lilly O'Brien's chocolate thrown in. They don't call it 'retail therapy' for nothing!
Has social media been of help to your business?
Yes. It's a great way of keeping in touch on a daily basis. We still post on our social media platforms (Facebook, Instagram) but it would be more the stories – the new arrivals, we try them on so they can see how they would look on an actual person and they can reply with messages straight away. It's all very instant.
The popular boutique has over 11.1K followers on Instagram and uses social media to connect with their customers. Not bad!
Do you feel ready to reopen once restrictions are revised or eased?
Like everything else, my thoughts have been changing everyday but for myself, the staff and customers – yes. Is it going to be the same as it was before? – No, it's not. I'm trying to organise in what capacity can we open – can we have the changing rooms open? Can the virus live on clothes, if so, there needs to be an incubation period for the clothes? At the moment, as it's online, it's manageable as there is an incubation period if clothes come back )over 72 hours). But if someone tries on something here in the shop and doesn't buy it, then it would need to be incubated.
I'm on a fact-finding mission right now before I open again.
What steps have you taken to make customers and staff feel safe?
It's a very personal interaction with them. When somebody comes in, you're in the fitting rooms with them, helping them zip up a dress or whatever – it's going to take a lot of habit-breaking. When a customer comes in we know, we're used to going up to them a giving them a big hug. People might think it's strange but we're a small shop, with the same customers coming in for years. We've seen a lot and know them quite well. It's going to be hard.
Do you think there is enough information and support out there for local retailers?
Yes there probably is. My email box has been flooded with information. I'd love if somebody would bullet point everything for me. I feel a little bit overwhelmed with information at the moment.
Have you availed of financial supports?
Absolutely. We used the Wage Subsidy Scheme which is great. Everybody is still on the payroll and will have their jobs when we open back up again. It's meant that we can open back up again, really. I'll definitely be availing of the LEO grants again.
Local Enterprise Board supports
What has been the hardest part of all this for you?
I would consider myself quite a resilient person, but I did find myself scratching my head a lot at the start, asking myself "What the hell is going on here?" It was the uncertainty, the unknown. Everything changing everyday. I remember going over to the L&N (Supervalue) here to go shopping wondering if I was going to catch the virus. It was the terror of the unknown, afraid I was going to bring it back to my family if I caught it. When even the leaders
What's the first thing you'd like to do when lockdown is over?
I do have a small garden party organised, haha! It's my daughter's 21st the day before Leo (Taoiseach) is releasing us! Just getting together with my friends again, just that social aspect. I miss going places… We'll never take it for granted again. We have the beach at the end of our road; we're very lucky. I'm glad I locked in Tramore!!!
If you had one message right now for your customers, what would it be?
I would like to say thank you! Thank you for the support, the goodwill, and we look forward to seeing you all again hopefully.