Nire Valley Eco Camp
Located a few minutes-drive from Ballymacarbry, you can really get away from it all at the Nire Valley Eco Camp. With five luxury cabins and views to die for, this is glamping as it should be. The cabins have a double bed and a loft if you're taking the kids along. You can even take your furry friend as it's dog friendly. There is also a small kitchenette, private seating area outside your cabin and ensuite bathroom.
Bring along your dinner to reheat on the gas stove provided. And drinks to enjoy under the stars. You don't need to worry about breakfast though—your hosts, Ruth and Paul, will deliver a delicious breakfast in the morning to set you up for the day. There are loop walks all around the area or you can hike in the nearby Comeragh mountains—which is the view you have from every cabin. It's the perfect location for a relaxing break and you'll get a great nights' sleep surrounded by the gorgeous Irish countryside. See here for more information: https://nirevalleyecocamp.com.
Hanora's Cottage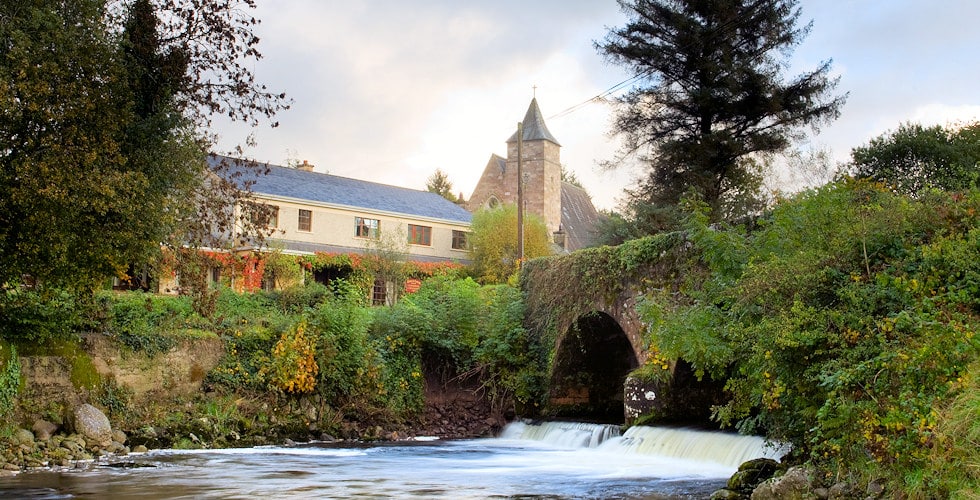 Located in the heart of the Nire Valley, Hanora's Cottage has grown from a small, two-room cottage into a multi-award-winning country house and restaurant. All bedrooms have jacuzzi baths, which is the perfect antidote after a long hike in the Nire Valley and before an excellent dinner in the restaurant. It's an adult only escape—so leave the kids at home and enjoy the peace and quiet. See here for more: https://www.hanorascottage.com/
Glasha Farmhouse
An hour's drive from Waterford in Four-Mile-Water, Glasha Farmhouse is another award-winning guesthouse (John and Sally McKenna Guides and Georgina Campbell). The house has six spacious and stylishly decorated bedrooms—the superior rooms have jacuzzi baths. The house is located between the Knockmealdown and Comeragh mountains, which makes it ideal for hill-walking. The Nire river runs adjacent to the farmhouse, where trout fishing is the main form of angling. Fishing permits are available locally. Drop down to James Lonergan in the Bridge Bar for a pint of the Black Stuff before heading back to the farmhouse for dinner. See here for more: http://glashafarmhouse.com/   
Richmond Country House
Located in Cappoquin and steeped in history, Richmond House was built in 1704 by the Earl of Cork and has been refurbished and restored to high standards. It sits on extensive grounds and gardens, where they grow their own vegetables, fruit and herbs. After a day of exploring, enjoy fine dining in their restaurant. Villiarstown is nearby, where you can hire kayaks or boats and explore the scenic Blackwater. Up and down this section of the river you'll see an abundance of wildlife and also get to spy on the stately homes that dot the countryside. A must-see here is Dromana Gate Bridge—a Hindu Gothic gate dating from around 1830—the only one of its kind in Ireland. For more information, see: https://www.richmondcountryhouse.ie and for more on exploring the magnificent Blackwater, see: https://www.blackwaterecotours.ie/
Cliff House Hotel
This luxury five-star hotel in Ardmore may stretch the budget, but is worth the stay. Overlooking the sea, the 39-room hotel has a spa with a pool and gym and a Michelin-star restaurant. There is also a bar and large outdoor terrace to take in the stunning views over Ardmore beach and the water. Choose between a balcony or terrace suite—either way, you'll get the view. The Cliff walk from the hotel takes you around Ardmore Head and Ram's Head, passing the Sampson ship wreck and Father O'Donnell's Well. For more information, see: https://cliffhousehotel.ie/